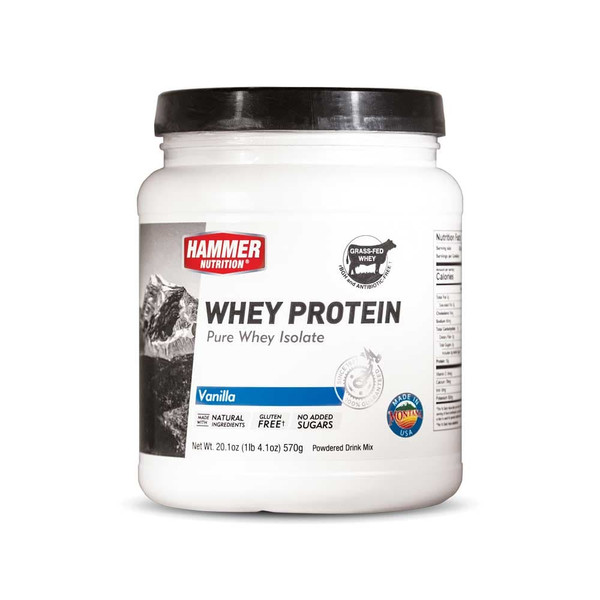 Whey Protein Powder
1
Minimises post-exercise soreness
Maintains and repairs lean muscle tissue
Superb immune system support
Glutamine-fortified to enhance recovery
---
-
Maintenance, repair, and growth of lean muscle mass are as important to your training as your energy source. That's why serious endurance athletes also need considerable amounts of protein, far above the normal adult RDA. Low dietary protein lengthens recovery time, causes muscle weakness, and suppresses the immune system. Prolonged protein deficiencies will cancel out the beneficial effects of your workouts; instead, you will become susceptible to fatigue, lethargy, anemia, and possibly even more severe disorders. Athletes with over-training syndrome usually have a protein deficiency.

Hammer Whey fulfills your post-workout protein requirements, without any added sugars, fillers, artificial sweeteners, or other questionable nutrients.


WHY HAMMER WHEY PROTEIN FOR RECOVERY?
Using Hammer Nutrition Whey proteins for recovery
Hammer Whey is the standard for promoting rapid recovery. When it comes to rebuilding lean muscle tissue and supporting optimal immune system function between workouts and races, nothing comes close to whey protein. It is the most bioavailable form of protein and has the highest percentage of essential amino acids, the protein building blocks that your body does not manufacture and must obtain from dietary sources. Moreover, 25% of the essential amino acid component comes from the three most important amino acids for muscle tissue repair, the branched chain amino acids (BCAAs) leucine, isoleucine, and valine.


Extra boost 
Each level scoop of Hammer Whey contains a huge six grams of glutamine, providing even more muscle rebuilding and immune system-enhancing benefits. Hammer Whey is also rich in two other highly beneficial amino acids, methionine, and cysteine. These two nutrients stimulate the natural production of glutathione, one of the body's most powerful antioxidants. Endurance exercise increases free-radical production, so endurance athletes need extra antioxidant protection. Glutathione also supports the immune system and liver functions. 


Analgesic effect
Short, four-amino acid chains known as quadripeptides constitute another key component of whey protein. Quadripeptides have a pain-killing (analgesic) effect that can help alleviate the soreness after an intense workout or all-out race effort. 


Whey Isolate: 90-97% Protein
Another consideration when supplementing with Whey is to choose whey protein isolate, not whey protein concentrate. Whey protein isolate is virtually lactose and fat-free; many lactose-intolerant people can still use whey protein isolate because it contains only a very small amount of lactose. Whey isolate also checks in at a sturdy 90-97% protein, whereas whey concentrate contains just 70-80% protein. Simply put, whey protein isolate is a purer protein and the best protein you can consume after a hard workout, which is why Hammer Whey is comprised uniquely of whey protein isolates. 


Recover better with Hammer
How well you perform tomorrow depends on how well you recover today. It is during the recovery process that your body grows stronger and fitter. Exercise breaks down muscle tissue, depletes energy stores, and puts stress on your immune system. Recovery builds these back up again if you have adequate nutrient intake and a sensible exercise regime. Athletic improvement occurs during the rest and recovery phase when your body responds to the stress of training. Smart athletes follow the formula for success: recover as consciously as you train. Hammer Whey is a key component for superior recovery.


BENEFITS OF HAMMER WHEY PROTEIN
Hammer Whey Protein is available in the following delicious flavors: Chocolate, Strawberry, Vanilla, and Unflavored.


Protein supplementation is absolutely essential for any hard-training athlete to maintain, repair, and grow lean muscle mass. Hammer Whey, ideal for supporting your immune system, and enhancing recovery between workouts and races, helps you obtain the full amount of protein you need daily.


Whey is the most easily assimilated of all proteins and is packed with a tremendous amount of naturally occurring branched chain amino acids. Hammer Whey Protein also contains high amounts of other recovery-specific amino acids and is glutamine-fortified for immune system support. Hammer Whey is 100% whey protein isolate, so you get more actual protein per serving and less lactose and fat than obtained through the commonly found concentrate form.


Serious endurance athletes have protein requirements far above the normal adult RDA, so make sure you always have Hammer Whey on hand.


Extra Benefits of Whey Protein
Contains only 100% undenatured (non-heated) whey isolate, which is virtually lactose & fat-free but rich in immune-enhancing beta-lactalbumins and alpha-lactalbumins. Gram per gram we believe you won't find a higher quality protein at a better value, especially when you compare the whey protein isolate in Hammer Whey to cheaper whey concentrates, most of which contain only 70-85% actual protein and higher amounts of fat and lactose.


Notes
Studies have established a suggested daily requirement of at least a half-gram of protein per pound of body weight for endurance athletes.


HOW TO USE WHEY PROTEIN 
Application
97.9% lactose-free, glutamine-enhanced whey protein. Consume for recovery enhancement immediately following workouts and races or as part of a do-it-yourself Meal Replacement Product (MRP). See chart below to determine your daily protein intake requirements.


Mixing / Usage Instructions
DIY Recoverite #1
Mix 1,25 scoops of Unflavored Hammer Whey with 3 servings of Hammer Gel in 125 - 250 ml of water.
This provides up to 370 calories from 22,5 grams of protein and up to 66 grams of carbohydrates (the amount based on the flavor of Hammer Gel chosen.  


DIY Recoverite #2
Mix 1,5 scoops of Unflavored Hammer Whey with 3 scoops of HEED in 125 - 250 ml of water.  
This provides 420 calories from 27 grams of protein and 78 grams of carbohydrates.  


HGH (Human Growth Hormone) Booster
To support a strong immune system during periods of stress and/or training volume, and to safely raise levels of HGH (up to 400%!), mix 1 scoop of Hammer Whey in 125 - 175 ml of water only (no carbohydrates) up to 30 minutes prior to bedtime.


Notes
Whey protein should not be used immediately before or during exercise due to the added glutamine, which tends to produce ammonia, a primary cause of premature muscle fatigue.


For protein supplementation before or during exercise, we recommend Hammer Soy, Perpetuem, or Sustained Energy.


Daily Protein Intake Chart
How much protein do endurance athletes need? Numerous studies have demonstrated that endurance athletes in heavy training need more protein than recreational athletes do. This chart gives you a good reference as to how much protein you should consider consuming daily from all sources. More information can be found in The Endurance Athlete's Guide To Success. 
* All measurements shown in grams needed per day
This is a preview of the recently viewed products by the user.
Once the user has seen at least one product this snippet will be visible.
ZULETZT ANGESCHAUTE PRODUKTE