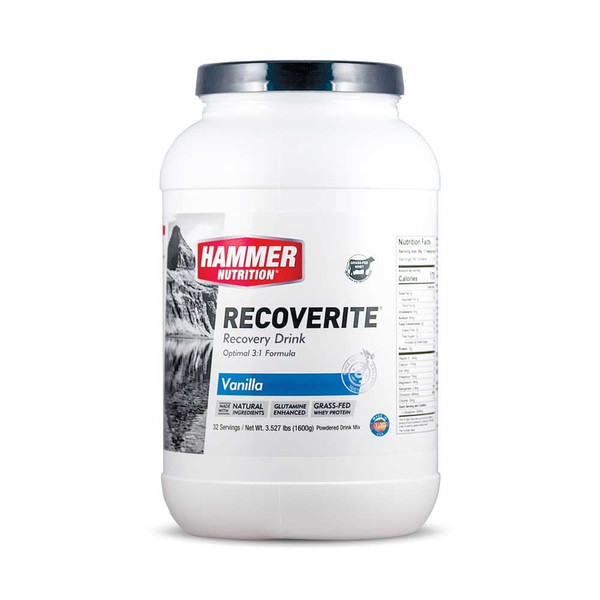 Recoverite
Recovery matters. Do it right.
1
Restores muscle glycogen
Rebuilds muscle tissue
Reduces post-exercise soreness
Made with natural ingredients
---
-
Highly effective and utterly delicious, Recoverite provides exactly what your body needs to reap the most from your activity—a 3:1 ratio of complex carbohydrates to premium whey protein isolate, three grams of L-glutamine, key recovery benefiting auxiliary nutrients, and a full spectrum of electrolytes.


Athletic performance improvement depends on a program of exercise to stimulate muscular and cardiovascular adaptation followed by a recovery period in which the body rebuilds itself slightly more fit than before. Thus, the real gain of exercise occurs during recovery, but only in the presence of adequate rest and optimal nutritional support. Carbohydrate and protein replenishment, as soon as possible upon completion of your workout, helps you to get the very most out of every minute you've put into training. That's where Recoverite comes in, providing unsurpassed nutritional support to ensure you obtain the maximum value from your workouts and complete recovery after each training session and race.


Recoverite today, feel great tomorrow!


HOW TO USE RECOVERITE
Application
Mix 1 scoop to 125-250 ml of water.


Use immediately following workouts and races to optimize recovery - glycogen replacement, electrolyte replacement, and muscle tissue repair. Recoverite can also be used as a Meal Replacement Product (MRP).


Serving Size
One serving equals two scoops of Recoverite and contains 170 calories (approx. 49 g). One scoop of Recoverite contains 85 calories. 


Suggested Doses by Body Weight: 


Mixing / Usage Instructions
Combine the suggested amount for your body weight range in 125-250 ml of cold water (or more, if desired), and consume immediately after completion of your workout or event.


To use as a Meal Replacement Product (MRP), simply consume 1-3 servings (2-6 scoops) in place of a meal.


Notes
Recoverite and whole foods serve to refuel and refresh the body during the critical two-hour "window of opportunity" after exercise. Thus, a reasonable amount of your post-exercise calories can and should be consumed from whole foods. That's why it's ideal to sit down to a healthy meal containing both carbohydrates and protein no more than two hours after the conclusion of your exercise. If this is not possible, additional servings of Recoverite can and should be taken at a rate of one to two servings per hour until you are able to eat a complete meal.


To use as a MRP, simply consume 2-4 scoops in place of a meal. If you are using Recoverite as a MRP, you should not replace more than one or two meals per day.


Please Note: It is believed that xylitol is unsafe for consumption by dogs; therefore, we do not recommend you feed your dog any products that contain xylitol, nor any products that are made for human consumption. 
INGREDIENT BREAKDOWN
Maltodextrin – A high-glycemic index (GI) complex carbohydrate, ideal for providing fast-acting, long-lasting energy during exercise and for replenishing the body's energy (glycogen) stores after exercise.


Whey Protein Isolate – The most bioavailable of all protein sources and the superior source of amino acids for muscle tissue repair and immune system support. Whey protein isolate also provides potent anti-inflammatory benefits.


L-Glutamine – The most abundant amino acid in the muscles, L-glutamine plays a significant role in the glycogen synthesis process, and helps repair and rebuild muscle tissue. It has also been shown to help raise bodily levels of glutathione, the most important antioxidant for immune system health. Glutamine also contributes to growth hormone release and digestive health.


Chromemate® brand chromium polynicotinate – This trace mineral helps regulate blood sugar and plays a vital role in the synthesis of glucose, fatty acids, and amino acids. During recovery, chromium facilitates carbohydrate storage (glycogen synthesis).


L-Carnosine – One of the most versatile and beneficial nutrients available. It buffers lactic acid during exercise and offers antioxidant support.


Full-spectrum electrolyte profile – The complete profile of sodium, chloride, calcium, magnesium, and potassium helps replenish depleted mineral stores.


Manganese – This trace mineral plays an important role in the production of superoxide dismutase (SOD), a powerful antioxidant.


Glycine – This amino acid is beneficial for aiding with muscle tissue repair, protecting collagen in joints, and reducing joint pain. Additionally, glycine has a naturally sweet taste, contributing to Recoverite's delicious flavor.


Xylitol– This natural sweetener, found in a variety of fibrous fruits and vegetables, promotes oral health, as it does not ferment and support the acid-producing bacteria that cause tooth decay. NOTE: It is believed that xylitol is unsafe for consumption by dogs; therefore, we do not recommend you feed your dog any xylitol-containing products, including HEED or Recoverite.


Stevia – This is the extract (steviosides) from the leaves of Stevia rebaudiana, a plant native to subtropical and tropical Central and South America. Stevia is non-caloric, and does not affect blood sugar levels. Like xylitol, stevia does not support acid-producing bacteria responsible for tooth decay.


This is a preview of the recently viewed products by the user.
Once the user has seen at least one product this snippet will be visible.
ZULETZT ANGESCHAUTE PRODUKTE